Main content starts here, tab to start navigating
Slide 1 of 2
Slide 2 of 2
please note: modifications may be politely declined. thank you for your understanding. your cooperation is appreciated.
Breakfast + Brunch
croissants

butter $5

chocolate $5.50

banana walnut bread

espresso mascarpone, toasted buckwheat, honey **contains nuts**

$11

gluten free

acai bowl

frozen açaí topped with granola, toasted pepitas, coconut, bee pollen, and seasonal fruit **contains nuts**

$14.50

gluten free

add buckwheat $2

lemon poppyseed waffle

vanilla mascarpone, strawberries, bergamot maple syrup **contains nuts**

$16.50

bacon $4
Toasts + Sandwiches
smashed avocado toast

avocado, pickled shallots, pepitas, sesame seeds, and pickled chilis on sourdough

$12

dairy free

add poached egg $3

Mushroom Toast

roasted mushrooms, house-made pesto and cashew cream, pepitas on toasted sourdough **contains nuts**

$15

vegan

add poached egg $3

add bacon $5

seasonal scramble

soft ribboned eggs, eggplant, and tomato kasundi on toasted sourdough, cilantro salad, paprika oil

$15

add bacon $5

breakfast roll

scrambled eggs, avocado, bacon, pickled shallots, watercress, and sriracha aioli on a vienna roll

$15

breakfast burrito

scrambled eggs, jalapeño, cheese, avocado, mushrooms, and hash brown, served with tomatillo sauce

$15

add bacon $5
Bowls + Salads
zoes market bowl

two eggs any style with avocado, watercress, roast tomato, sweet potato, beet relish, quinoa

$17

brassicas salad

charred broccolini, brussels sprouts, kale, hummus, soft-boiled egg, avocado, pickled shallots, buzz chili, seeds

$16

dairy free, gluten free

add smoked salmon $7

chicken bowl

pulled chicken, barley, kale, pickled jicama, sweet potato, avocado, seeds, jerk seasoning, zesty fresh basil pesto

$17.50
Adds + Sides
extra egg

$3

scrambled eggs

$4

avocado

$4

halloumi

$5

Pulled chicken

$5

bacon

$5

smoked salmon

$7
Wifi
our wifi is available to our guests. please note that in busy periods, our tables are available for 1.5 hours.
network: MySpectrumWiFi70-2G PW: quicksled206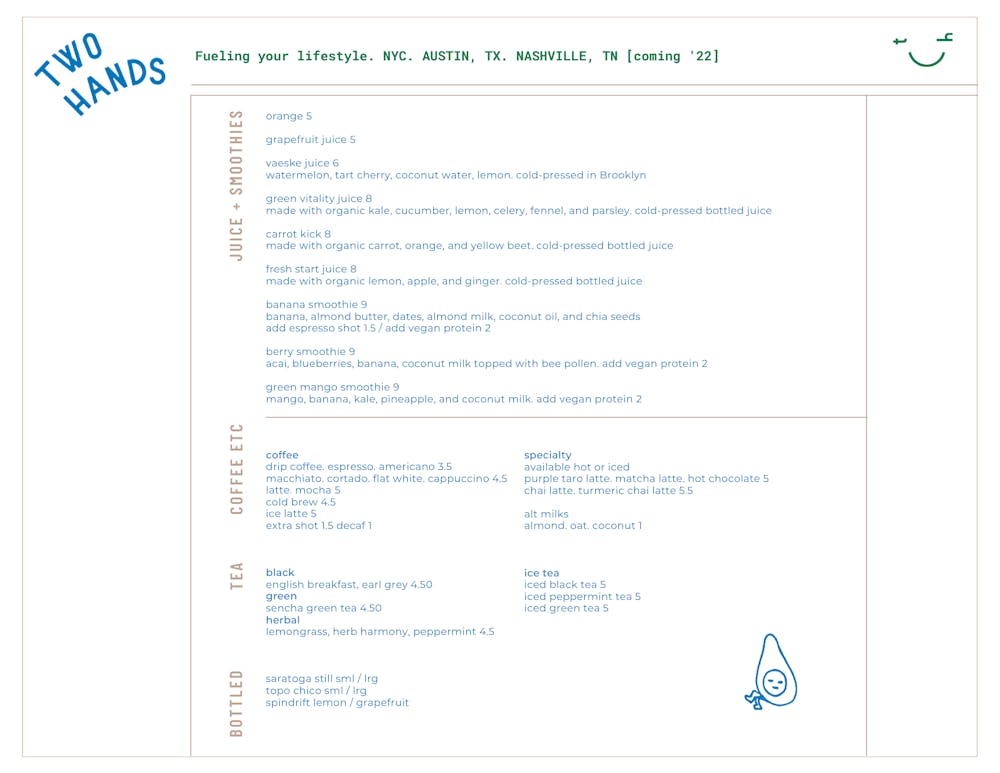 Download PDF
Juices + Smoothies
orange juice

$5

grapefruit juice

$5

vaeske juice

watermelon, tart cherry, coconut water, lemon. cold-pressed in Brooklyn

$6

Green Goddess Juice

apple, kale, lemon, wheatgrass. cold pressed juice by Two Hands

$8

Beet it Juice

apple, beet, ginger. cold pressed juice by Two Hands

$8

Walking on Sunshine juice

pineapple, celery, apple, basil, turmeric. cold pressed juice by Two Hands

$8

banana smoothie

banana, almond butter, dates, almond milk, coconut oil, and chia seeds

$9

add espresso shot $1.50

add vegan protein $2

green mango smoothie

mango, banana, kale, pineapple & coconut milk

$9

add vegan protein $2

berry smoothie

açaí, blueberries, banana, coconut milk topped with bee pollen

$9

add buckwheat $1

add vegan protein $2
Coffee
drip coffee

$3.50

espresso

$3.50

americano

$3.50

macchiato

$4.50

cortado

$4.50

flat white

$4.50

cappuccino

$4.50

latte

$5

lavender latte

$6.50

mocha

$5

iced latte

$5

cold brew

$4.50

extra shot

$1.50
Specialty
purple taro latte

$5

matcha latte

$5

chai latte

$5.50

turmeric chai latte

$5.50

hot chocolate

$5
Tea
black

english breakfast, earl grey

$4.50

green

sencha green tea

$4.50

herbal

lemongrass, herb harmony, peppermint

$4.50
Ice Tea
black

$5

green

$5

peppermint

$5
Bottled Drinks
topo chico sparkling

$7

$3

lemon or grapefruit spindrift

$3